Days 110-147: Visit Bloomington!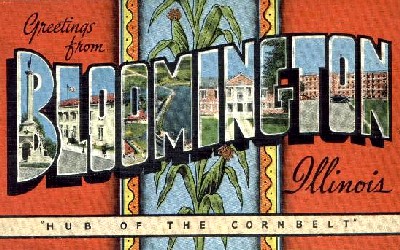 Home sweet home. The glorious town of Bloomington, IL that I typically visit once a year during the holidays. I've decided to share with you, dear reader, some of my go to spots, should you ever find yourself in this neck of the woods. (Let's face it, you'll probably only find yourself here if you are 1. from here 2. attending ISU or IWU 3. are at a State Farm conference or 4. are driving to/from Chicago or St. Louis to pretty much anywhere else that would take you through IL.)
Without further ado, here are 11 required Bloomington-Normal stops (in no particular order), according to Erin Jennings…
Founded in Blo-No. Famous for Steakburgers. Still my favorite milkshakes of all time. Still the best place to eat at 2am after last call. The day they opened a Steak 'n Shake here in the LA area was the greatest day of my life (after they opened Jimmy John's; *praise*) but I still haven't gone. Because, according to Yelp reviews, they went and tried to make this Steak 'n Shake something "new." No no no no no. I want the Steak 'n Shake I grew up with. Not some LA version of it. So, if you pass through Blo-No, get your Steakburger where it all started.
I've lived in SoCal for almost 11 years and every time I go home, my mom lets me know that I am too pale to be a resident of Los Angeles. "She lives in L.A. but you wouldn't know it to look at her" has been said more than once. So what does my mom do? She buys me a package of Ultra Bronze (aka the super duper, one visit is equal to like 30 in another bed) sessions for Christmas. Then she drags me to fake bake where I hope and pray that these 3 (really 90) sessions won't give me skin cancer. Because you know what you probably won't get if you stay out of the sun? Skin cancer. And wrinkles. Seriously, I don't mean to brag, but my skin is pretty flawless. Moisturize and stay out of the sun, kids. Works like a charm. But, if you're in Bloomington, go to Ultimate Tan and tell my mom I said "hi" and that my tan from Christmas is holding up nicely.
Be still my beating heart. Gene's Ice Cream is some of the best ice cream ever (if you like soft serve and why wouldn't you like soft serve because it's delicious). Unfortunately for me, Gene's is only open in the summer months, so I typically get it once or twice every 3-5 years. Such a bummer. If you have the pleasure of cruising down Main Street when it's open, please get an Oreo Avalanche for me. Can't get Gene's? Well, there's always the largest DQ Grill & Chill in the country on Veteran's Parkway. You heard that right. The Texas stop sign has it's biggest location right in the middle of my hometown. (Side note, Gene's has not updated their website since 2014. Do you need me to come do some marketing for you?)
You guys, Red Lobster holds a special place in my heart. Partly because I've been eating at the Bloomington location since I was in a booster seat and they still served hush puppies (RIP). Partly because I worked there all through college when I was home on summer and winter breaks. I got my first tattoo with my coworkers AJ & Julie (hi hot mamas). Threw a crazy "Share the Love" party in my backyard with the whole team. And, one time I even hid an engagement ring in some calamari. So romantic. RL130 FOREVER.
I don't even think I need to explain this one. There are no Cracker Barrels in the state of California. The closest one to L.A. is in Yuma, AZ. (Trust me, I looked that ish up real quick when I moved out here.) Funnily enough. I HAVE eaten at the Yuma CB. (Shout out to Gail and our road trip for the Lady A/Hunter Hayes/Sam Hunt tour last summer.)
If you like thin crust pizza, do yourself a favor and eat at Monical's. I think it has Lucca beat on pizza (maybe not on ambiance) but to me, it's still my favorite. Also, French dressing lovers swear by the restaurant's. But, I'm a true Midwestern gal, so it's Ranch all the way. The Italian Special family pleaser is oh so pleasing indeed.
Aside from eating, the thing I do most in Blo-No is shop. Eastland Mall has Kohl's and, if you know me, you know that's all I'll ever need. Nothing too special about it. It's pretty much like any other mall you've ever been to.
After all that eating, you MIGHT feel like you need to exercise. I recommend a walk/jog/bike ride/rollerblade/whatever somewhere along the Constitution Trail. It runs all over the twin cities. My mom and I usually hop on about half a mile from her front door and walk to Steak 'n Shake. Go figure.
All that eating stressing you out? Need some pampering? I recommend Fox 'n Hounds. I still go every time I'm home for a haircut and color with Aubrey. She's been doing my hair since high school and is still the best stylist I've ever had. (Eat your heart out overpriced NY & L.A. salons.)
The only place in town worth going bar hopping. I've got many a story from many a downtown bar. I won't share them here, you never know who's looking, but you can ask me in person. Also, if you find yourself in trouble down there, just call my dad. His law office is within walking distance of any DTB watering hole. I know he's dealt with a lot of DUIs. If you're underage (shame on you college students with fake ID's) or don't drink, there are plenty of other things to do downtown. Like ghost hunt.
The Coliseum opened after I moved away. BUT, I do have fond memories of attending soundcheck and a John Mayer show there back in '07 (thanks Scotty)! Jason Aldean is playing there two nights this weekend, so there's that. They've got sporting events there too, but honestly, I'd just check out the concert calendar. It's fun to see big acts at a venue that's like 1/3 the size of the Staples Center. Especially if you dig country music (like me) because a lot of artists pass through. Maybe it's snobby, but I save my sporting events for pro leagues. See you soon at a Los Angeles Rams game BOOM!
I know. I KNOW. Most of these stops are for food. But fun fact…did you know that "Bloomington-Normal is home to the most restaurants per capita IN THE ENTIRE COUNTRY"? Yeah. We like to eat out.
P.S. I'm getting back into my challenge. Finally.
Comments
comments