Day 60 – 99 Cent Store Win
Today I stopped by the 99 Cent store to look for some little treats to go along with an upcoming group wish I'll be working on. (Unfortunately I can't say what I bought or what the wish is because it hasn't happened yet.)
What I can say is the 99 Cent store did not let me down. I found exactly what I was looking for, and guess what…they were only 11 cents! Walked in planning to spend ten bucks and spent $1.08.
I know I know, it's a dark and twisty world we live in because they probably still turned a profit, but I take some solace in the fact that these tiny tokens are going to help create a magical (I hope) experience for some very deserving kids.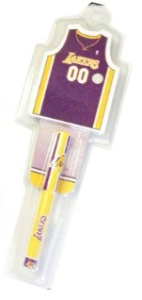 Update: Now that the wish has happened, I can divulge my amazing purchase. I was working on a wish to meet Kobe Bryant, and found these fun Lakers pen & notepad sets for the kids to write down questions they wanted to ask Kobe in case they got starstruck and forgot.
Comments
comments